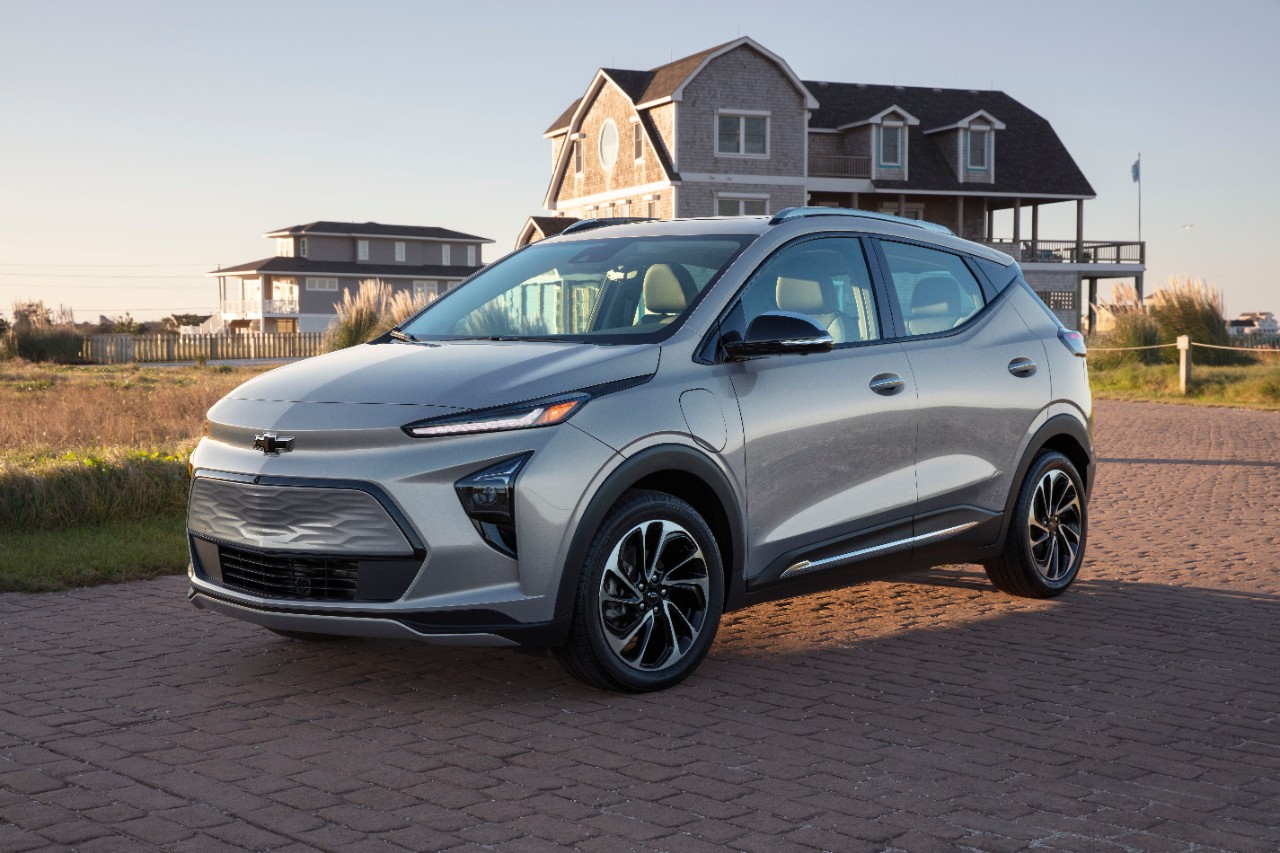 GM, parent company of Chevrolet announced that it is dropping prices on their 2023 Bolt EV hatchback and Bolt EUV crossover models models.
2023 Chevy Bolt EV and EUV new pricing details
The base 2023 Chevrolet Bolt EV 1LT will now starts at $26,595, a $5900 drop from its original $32,495 price. The 2LT trim, which includes leather seats, HD surround vision cameras, and lane-change alert, starts at $29,795, a 16 percent decrease from the $35,695 price for the 2022 model year.
The 2023 Bolt EUV with the LT trim starts at $28,195, also including dealer freight charges —  $6300 from its original $34,495 MSRP. The Bolt EUV in premium trim level will start at $32,695, a 16 percent decrease from the 2022 price of $38,995. Pricing for both models include dealer delivery charges. 
"This change reflects our ongoing desire to make sure Bolt EV/EUV are competitive in the marketplace," a GM spokesperson said. "As we've said, affordability has always been a priority for these vehicles."

2023 Chevy Bolt Range and Charging
The 2023 Bolt EV has a range of up to 259 miles on a full charge from its 65-kilowatt-hour (kWh) battery pack. Its single motor drivetrain generates 200 horsepower. The Bolt can be fully charged in about 9 hours using Level 2 charger. With a DC fast charger, the EV's battery can be charged from empty to full in about 1 hour and 20 minutes.
Is the Chevy Bolt EV eligible for the Plug-In Electric Vehicle (PEV) Federal Tax Credit?
The new pricing should be a welcome change for EV buyers who are looking for an affordable EV. It will also help GM regain its price competitiveness with other electric car manufacturers. When the Bolt was first introduced, the automaker was still eligible for the federal government's $7,500 tax credit, which made the Bolt a $30,000 vehicle. But, after GM sold its 200,000th EV, the tax credit was phased out, making the company no longer eligible. Plans to extend or expand the credit are still being debated by U.S. Congress.
2023 Chevy Bolt EV and EUV Availability 
EV prices are currently increasing due to supply chain disruptions and rising costs for key materials that are needed for battery production like lithium, cobalt and nickel. Overwhelming consumer-demand and materials shortages for EVs have also resulted in delivery delays of up to one year as reported by Tesla, Volkswagen and Mercedes-Benz. It is not clear what effect market conditions will have on Bolt EV and EUV availability. 
GM restarted production and delivery of Chevy Bolt in April following a production halt that began in February due to battery fire risk. Despite the damage Bolt's reputation, Chevy is confident that its electric Bolt models can rebound and achieve record sales. 
Orders for the 2023 Chevy Bolt EV and EUV are expected to begin in July.